Archive for August, 2008
Congratulations to all the winners at this years Golden Tap Awards!
Your awards are VERY well deserved!
AND THE WINERS ARE:….
Best microbrewery in the Greater Toronto Area (GTA) – Mill Street, Toronto
Best microbrewery in Ontario (outside of the GTA) – Beau's All Natural
Brewing Company, Vankleek Hill
Best beer brewed in the GTA – Steam Whistle Pilsner, Toronto
Best beer brewed in Ontario (outside of the GTA) – Beau's Lug-Tread
Lagered Ale, Vankleek Hill
Best bar in the GTA in terms of draught beer selection – C'est What, Toronto
Best bar in the GTA in terms of bottled beer selection – beerbistro, Toronto
Best bar in Ontario (outside of the GTA) – The Manx, Ottawa
Best brewpub or tied house in Ontario (including the GTA) – Mill Street
Brewpub, Toronto
Best beer of the festival – Grand River Bumbleberry Wheat, Cambridge
EDITORS CIRCLE AWARDS
St. Veronus, Belgian bistro in Peterborough
Cameron's Cask Nights, a series of tasting events hosted by Cameron's
Brewing
Dogfish Head Dinner, an event hosted by beerbistro
Steve Peters, speaker of the Legislative Assembly of Ontario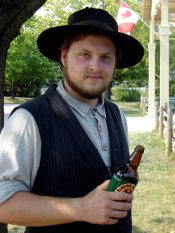 The second edition of Brewsfest is fast approaching: September 6th and 7th… I am really looking forward to it. There are so many activities planned…it's going to be two days packed with Ontario Craft Beer fun! There will be local beer and food experts leading various activities, the Brewrianists Society will be participating and, of course, there will be great bands (I can't wait to hear the Sky Diggers!)… I will be there again this year, doing guided beer tastings on behalf of The Beer Lovers' Tour Co. on both days. See you all there!
Here is a link to the website for more info.
Mirella
The good folks at Bar Towel have published the list of Ontario Craft Brews that will be availabe at this weekends Golden Tap Awards. Check it out:
The beer list for the Ontario Beer Festival at this weekend's Golden Tap Awards has been finalized. The following beers will be available for sampling at the party:
DRAUGHT and BOTTLE
Beau's Festivale Plus
Nickel Brook Organic Lager, Uniek Kriek, Apple Pilsner and Maple Porter
Black Oak Pale Ale and Nut Brown Ale
Cameron's Auburn Ale and Dark266
C'est What Caraway Rye
Church Key West Coast IPA, Holy Smoke Scotch Ale and Grains of Wrath
Durham Witbier
Denison's Weissbier
Grand River Galt Knife Old Style Lager, Bumbleberry Wheat, Ploegers Vlaams Rood and Plowman's Ale
Granite Best Bitter Special
Great Lakes Superior IPA, Green Tea & Ginseng Ale, Devil's Pale Ale and Orange Peel Ale
King Pilsner
Mill Street Pilsner, Coffee Porter and Tankhouse Ale
Neustadt Springs Big Dog Pelee Island Porter and Scottish Ale
Pepperwood Cream Ale
Railway City Iron Spike Blond, Amber and Copper
Saint Andre Vienna Lager
Steam Whistle Pilsner
Wellington Imperial Stout and Iron Duke Strong Ale
CASK
Black Oak Double Chocolate Cherry Stout
Cameron's Cream-sic-ALE
Granite Double Dry Hopped Summer Ale
Mill Street Dry Hopped Scotch Ale
There are more beers available at this year's fest than any previous year. The Golden Tap Awards will be taking place on Saturday, August 23rd at beerbistro, located at 18 King Street East in Toronto. Doors open at 4pm and the awards show is at 8pm. Admission is free and all are welcome.
If you want to meet the brewers, and try their unique brews (some brewed specifically for this intimate event), you should get yourself down to the Beer Bistro!
If you go – come back here and tell us all about the great brews you tried!!
Cheers!
Blogroll
Members
Links
Podroll